BATTERYLESS TELEPHONE SYSTEM
The VSP Batteryless Telephone system is independent of the vessels power supply and fulfils the demands for emergency communication between vital positions on board. 
The system has a versatile range of stations, light robust and corrosion resistant for all environments on board. The different VSP stations can be delivered for panel, desktop or wall mounting. 
The VSP system can be delivered as:
12 -Way system consisting of up to 12 main stations with selector switch for selective calling between all connected

 

20 -Way (M) system consisting of up to 20 main stations with selector switch for selective calling between all connected stations

 

Intrinsically safe VSP set for units in hazardous area (12 Way only)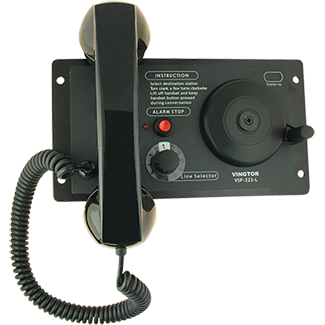 SYSTEM UNITS
VSP-122

Main Station

VSP-211-L

Main Station - Batteryless

Telephone System - 12-Way

VSP-213-L

Main Station - Batteryless

Telephone System - 12-Way

VSP-223-L

Main Station - Batteryless

Telephone System - 12-Way

VSP-122P

Main Station - Batteryless

Telephone System - 12-Way

VSP-211M-L

Main Station - Batteryless

Telephone System - 20-Way

VSP-212M-L

Main Station Panel

Mounted with Relay - 20-Way

VSP-211M-L

Main Station - Batteryless

Telephone System - 20-Way

VSP-22M

Main Station - Watertight

20-Way

VSP-512

Intrinsically Safe

Operating Unit