ECDIS
The new Electronic Chart Display and Information System ECDIS-E is an easy and cost-effective retrofit solution that complies with the latest performance standards.
The ECDIS-E combines an optimised feature set with easy to install hardware. Based on the VisionMaster FT platform, the new ECDIS-E has been designed with particular focus on retrofit installations where a cost effective solution is desirable.
MAIN FEATURES
Brand new concept of integrated ECDIS into one panel PC for plug and play

100% solid state panel PC

IMO compliance and ECDIS carriage requirements

Fully compliant with current type approval standards (IEC 61174, 60945, 62288)

Based on the successful VisionMaster FT ECDIS, optimised for entry level users

Cost-effective solution for paperless navigation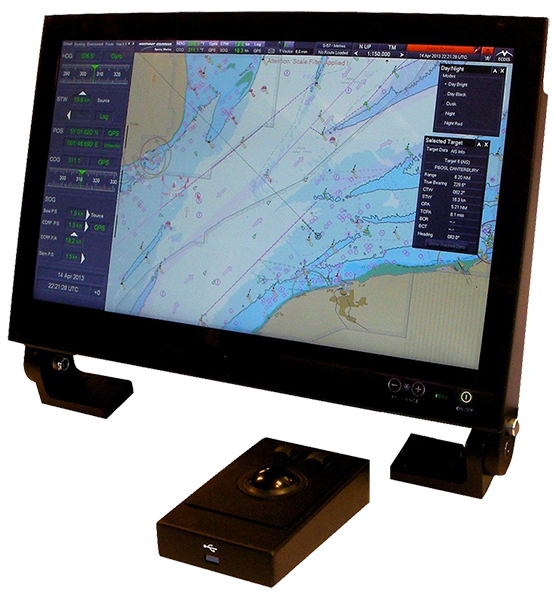 Stress-free Navigation
The intelligently arranged graphic user interface gives quick access to functions available in each mode, with full-time display of sensor data.
The navigation process is streamlined to reduce confusion and risk, enhancing situational awareness.
The clever design of graphic interface and colour coding benefits the operator in that it allows them to assess the data at a glance and navigate stress-free.
Cost-Efficient-Solution
The ECDIS-E solution consists of proven ECDIS software, which is added to an off-the-shelf panel PC with an integrated 24" display and trackball for easy operation. This setup shortens delivery times, reduces installation efforts and offers maximum flexibility for integration into existing bridge layouts.
The ECDIS-E Display/PC-unit is simple to install and comes with a flush mount bracket, a separate Interface-box with cable and a stainless steel trackball unit. The whole system is type-approved. The ECDIS-E is a cost-efficient and high-performance ECDIS solution with worldwide after sales support of one of the largest service network.
ECDIS Charts
The ECDIS-E automatically associates radar and Automatic Identification System (AIS) targets to minimize mistaken identity and simplify watch standing. The system's Universal Chart Manager is designed to work with a broad range of authorized vector and raster charts, including S57, C-Map, ARCS, PRIMAR and Pay as you Sail from Navtor.
We provide the most comprehensive official worldwide ENC data coverage with updates, including SENC Services, Admiralty Digital Publications and Admiralty Raster Chart Service.