VDR
Though VDRs are a required tool on large marine vessels, it is important to ensure that the VDR you choose has the right features and reliability you need. Learn more about the Danelec Difference in our new generation of Voyage Data Recorders so that you can feel secure in the quality and advantages of using our unique Danelec VDR technology.
VDR OR S-VDR?
Like black boxes carried on aircrafts, Voyage Data Recorders (VDRs) enable accident investigators to review procedures and instructions in the moments before an incident and help to identify the cause of any accident.
VDR systems are designed to record and store information concerning the position, movement, physical status and command and control of a vessel.
Passenger ships and cargo vessels of 3.000 GT and above constructed on or after July 1, 2002 must carry a VDR to assist in accident investigations, while on cargo ships of 3.000 GT and above which were built before July 1, 2002 a Simplified VDR (S-VDR) is accepted to be fitted for the same purpose.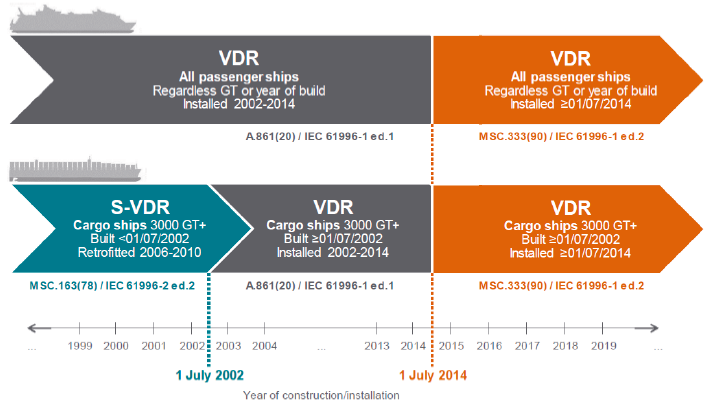 Regulations and Performance Standards
The original performance standards for VDRs were defined in MSC.163(78) and came into force in 2002. Ten years later the Maritime Safety Committee of the International Maritime Organization (IMO) adopted a revised recommendation on performance standards for VDRs.
The new requirements are defined in MSC.333(90) and apply to all full VDR systems installed on or after July 1, 2014.
Due to the difficulties in interfacing to existing analog sensors on older vessels, simplified VDRs are not required to record the same amount of information as a full VDR system.
Nevertheless S-VDRs should maintain a store of information according to the original S-VDR performance standards, as defined in MSC.163(78). These standards came into force in 2006 and remain unchanged to date.
Light Voyage Data Recorders (L-VDRs) are non-mandatory systems, intended for vessels not required to implement a full VDR or a simplified VDR system by regulations, but in need of responsible documentation of voyage related data.
L-VDRs provide the recording capabilities of a type-approved full VDR system without being connected to a fixed/float-free capsule.
GET TO KNOW OUR PRODUCT LINE
Is Your System IMO-Compliant?

Danelec's new generation VDR was the first on the market to meet the latest performance standards and technical requirements, as defined in MSC.333(90) and IEC 61996-1 Ed.2, taking effect on July 1, 2014.

Designed specifically for maritime application down to the last component, the DM100 VDR offers high quality and reliability in a compact and lightweight, easy-to-install solution. The DM100 VDR is Wheelmark approved by DNV GL, and is intended for installation on passenger ships as well as cargo vessels of 3.000 GT and above, constructed after July 1, 2002.
DANELEC MARINE SYSTEMS AND SOLUTIONS BROCHURES