CONNECTIVITY AS A SERVICE. ALL-INCLUSIVE. NO COMMITMENT.
ALL IN ONE SERVICE

A rugged and proven hardware

Global Broadband up to 10 Mbps

Superior Technical Support



Shipping and Installation included
FLEXIBLE AND FAST
Offering your fleet everything it needs to compete today, AgilePlans™ by KVH is an all‑inclusive, no commitment service including: global broadband, VSAT hardware, daily TV and print news, training, free shipping, free installation, and zero maintenance costs. And now, with the all‑new TracPhone® V7HTS, connect with data rates as fast as 10 Mbps, plus get an Unlimited Use data channel.
WHAT DO AGILEPLANS BY KVH INCLUDE?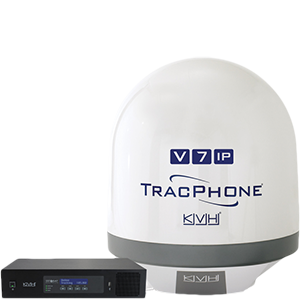 TRACPHONE V7IP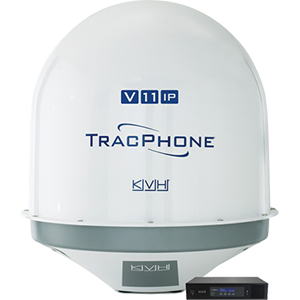 TRACPHONE V11-IP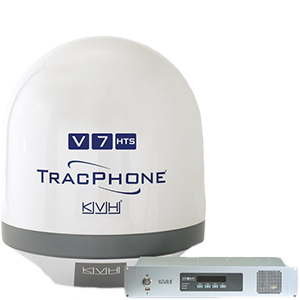 TRACPHONE V7HTS
KU-BAND SERVICE
Data Speeds: 3 Mbps Shore to Ship / 512 Kbps Ship to Shore
SELECT YOUR RATE PLAN

Plan

Data / Month

$ / Month

$ / MB Extra

V7-AP500MB
500 MB
$499
$0,99
V7-AP2GB
2 GB
$799
$0,40
V7-AP5GB
5 GB
$999
$0,20
V7-AP10GB
10 GB
$1.799
$0,18
V7-AP20GB
20 GB
$2.999
$0,15
V7-AP40GB
40 GB
$4.799
$0,12
Rack-mountable Integrated CommBoxTM Modem (ICM)
---
2 LMR RF cables and power/data cable (30 m / 100 ft), plus 1 NMEA cable (30 m / 100 ft)
---
1 VoIP line with KVH-assigned number1
INSTALLATION AND SUPPORT SERVICES
Free initial network and installation consultation.
---
Free shipping2 to, and standard installation in, KVH-designated ports OR credit (USD 1500 for V7IP / V7HTS; USD 2000 for V11IP) for shipping/install in other ports (visit http://kvh.com/agileports for details and port list)3
---
Zero maintenance costs throughout subscription period.
---
KVH OneCare Global Technical Assistance Package.
---
Proactive Performance Monitoring.
---
myKVH Management Portal
---
Vessel Tracking Service - Basic Tracking
VALUE-ADDED CREW WELFARE AND TRAINING CONTENT
| | |
| --- | --- |
| | 60+ national newspapers in 20+ languages delivered daily, monthly special interest papers, and even special event coverage. The latest news, sports, business, entertainment and more. |
| | National and international news channels in local languages from renowned broadcasters in over 10 countries, plus multiple English-language sources. |
| | Videotel Basic Training Package offering three STCW-related subjects (20 videos each); select one: Tankers, Dry Cargo, or Offshore. |
VALUE-ADDED OPERATIONS DATA SERVICES
| | |
| --- | --- |
| | Free weekly delivery of updated global chart databases from C-MAP4 and, coming soon, ChartCo. |
| | Free delivery four times a day of weather data files from StormGeo BVS and BVS updates upon release4 |
OPTIONAL HARDWARE - CAN BE BUNDLED INTO YOUR AGILEPLANS SUBSCRIPTION
1 Standard charges apply for additional numbers or customer-designated numbers.
2 See http://www.kvh.com/agileoptions for the listing of ports where shipping costs to the port is included in your AgilePlans monthly subscription fee; additional charges may still apply.
3 AgilePlans Standard Installation is for labor only. Installation services are subject to and governed under KVH´s Professional Services Standard Terms and Conditions and AgilePlans Standard. Installation Terms and Conditions, see http://www.kvh.com/agileresources for details.
4 Requires separate lincense and/or subscription from C-MAP, ChartCo, and/or StormGeo. Subscriber to obtain at own expense.
PHONE CALLS TO LAND OR MOBILE FOR AS LOW AS $0.05/MINUTE
ALL INCOMING CALLS FREE OF CHARGE