This past weekend, Aeromarine has successfully completed the installation and setting-to-work of a complete gyrocompass system with fibre-optic technology (FOG) from Sperry Marine in the PEVASA tuna-fishing vessel "Playa de Aritzatxu". The Bermeo-based shipowners have placed their trust in this type of technology in order to ensure a precise and reliable heading, with zero required maintenance due to the absence of moving parts.
The gyrocompass chosen for this case has been the NAVIGAT 2500, complemented with the heading signal distribution and display system known as CompassNet. The nucleus of the NAVIGAT 2500 provides high precision heading data using fiber optic technology, which originates from the military sector. The NAVITWIN V unit monitors data from other heading sources on board the ship and automatically or manually selects the heading source that will be shared with the rest of the bridge systems. It is interesting to note that because of the NAVITWIN V element and the signal distribution box where all the inputs and outputs of the system are connected, this solution becomes the best option to centralize all the ship's heading sources, regardless of the brand and/or model of these.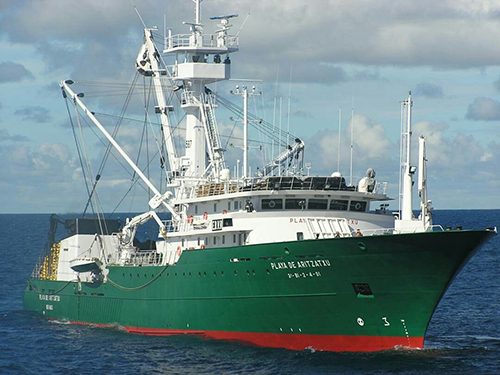 Due to the nature of this technology, the system does not require any type of maintenance, which is a great advantage for tuna fishing vessels, which navigate in remote areas where it is complicated and expensive to organize scheduled maintenance services and/or repair the elements that make up conventional gyrocompasses. In summary, the absolute absence of maintenance, the 5-year warranty and the MTBF of 150.000 hours confirmed by the manufacturer, make this system an essential asset when it comes to saving time, money and worries.