Aeromarine updates the KVH systems to the new HTS technology.
KVH has launched the new mini-VSAT HTS systems. In this way, customers ensure greater coverage and greater bandwidth with two simultaneous data channels (for the V7-HTS and V11-HTS). This is only possible thanks to the new hardware development carried out by KVH, the leader in VSAT satellite communications in the world.
Since the end of 2017, KVH has developed satellite communications terminals that meet all customer expectations. In addition to the added value services offered for the crew, KVH has also taken into account the requirements for management from the office and that is why the myKVH portal has been developed from where information can be obtained as follow-up of the fleet ships, data consumption, services where the communication terminal's wider bandwidth is being used and much more.
Therefore, KVH with these new systems and, Aeromarine as Official Distributor in Spain, we are updating the V-IP systems prior to the new V-HTS, which offer greater versatility of operation on board, greater bandwidth and lower costs for the shipowner.
MINI-VSAT HTS COVERAGE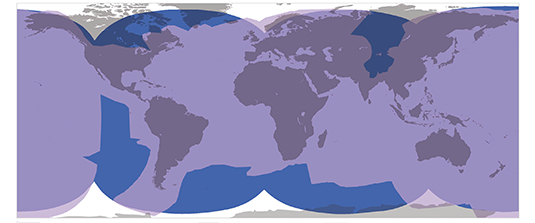 The main advantages of HTS systems over current IP systems are:
65 million sq. km (25 million sq. miles) of additional coverage

Stay connected with reliable connectivity and higher speeds in even more places! KVH's mini-VSAT Broadband offers the largest Ku-band HTS network available today with the additional benefit of a C-band overlay when required.

Exclusive dual-channel configuration

KVH's hybrid data plans offer simultaneous high-speed and unlimited use data channels. The result is fast, reliable connections so your operations and crew can stay in touch wherever you operate. (TracPhone V7hts and V11hts only)

Unmatched flexibility

Choose airtime that fits your operational needs with month-to-month subscriptions and an easy, affordable VoIP-only suspension plan. Or, if you want an all-inclusive solution with no commitment, consider AgilePlans - KVH's innovative Connectivity as a Service solution.

Upgraded or new premium hardware

Ensure your vessel has the highest performing maritime VSAT onboard plus the benefit of KVH's exclusive IoT Proactive Monitoring.

Extend your warranty

Enjoy the security that comes with a new 1-year parts/labor warranty on upgraded TracPhone Vip-series antennas or a full 2-year parts/labor warranty on a new antenna system with the option to extend to as much as 5 years.

Confidence through smart data tools

You asked, we listened. The secure myKVH portal and mini-VSAT Manager suite of tools offer powerful, HTS-enhanced resources that give you greater visibility into and control over your data usage.
NO MORE SYSTEM ADQUISITION NEEDED
AGILEPLANS INCLUDE ALL IN ONE AS A SERVICE